A new study found that 23 percent of people with schizophrenia were given drugs that could cause harm when taken together. Researchers urge that schizophrenia treatments be managed carefully to avoid harmful drug interactions.
Most antipsychotics are processed by the same enzyme which can cause side effects and pose danger for the liver.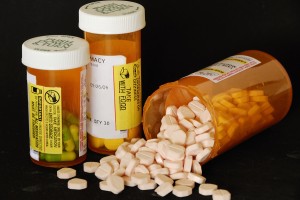 Researchers, led by Jeff Jianfei Guo, Ph.D., of the University of Cincinnati Medical Center, along with other researchers looked at the insurance claims of 27,909 patients with schizophrenia to figure out the number of times people were prescribed an antipsychotic and any other drug that might cause an interaction.
They discovered that, of the people that might have been exposed, about 74 percent had both of their prescriptions filled at the same pharmacy. About 63 percent were exposed by the same physician.
Schizophrenia patients were most likely to be exposed to possibly harmful interactions by using two different antipsychotics — the most common combination being Haldol (haloperidol) and Zyprexa (olanzapine).
The researchers took into account other factors to figure out which patients had the greatest risk for exposure to harmful drug combinations. Drug-drug interactions were more likely in women, people who were Caucasian, and people who also had depression.
The authors conclude that doctors and pharmacists need to find new ways to avoid exposing schizophrenia patients to harmful drug combinations.
The study only looked for two competing drugs that were prescribed at the same time in patient records. So, it is unclear if the people in this study actually experienced any drug-drug interactions.
Schizophrenia is a mental disorder that significantly affects cognition and often causes chronic problems with behavior and emotion. Along with a breakdown of thought processes, the disorder is also characterized by poor emotional responsiveness, paranoia, auditory hallucinations and delusions.
As first appeared in Psych Central. The study was published earlier this month in Psychiatric Services.
Share
About Author
(0) Readers Comments