Uncategorized

— 16 October 2012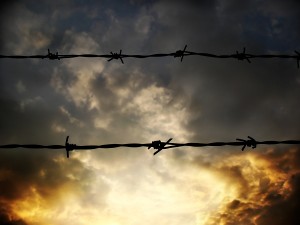 The delivery of about 600 asylum-seekers to Christmas Island over the weekend has created tensions at the territory's main detention centre, while the Nauru processing camp is dealing with an outbreak of self-harm.
About 522 people were landed by Customs and navy vessels and a planeload from Cocos Island was due in yesterday evening.
Another aircraft carrying asylum-seekers from Christmas Island to Nauru was due to leave last night.
As of yesterday afternoon, Christmas Island detention facilities were holding a total of 1946 people, with more on the way from intercepted smuggling boats.
Guards said the main Christmas Island centre was now crowded with more than 1200 men.
Several hundred more people, including children, were detained at the back of the main centre's two compounds where trouble brewed before rioting and mass escapes in March last year.
At the dedicated family camp on the other side of the island, there were reports of adults declaring to staff that they would not go to Nauru or Papua New Guinea's Manus Island.
"There are a few little fights breaking out due to frustrations," one guard said.
There are concerns for the mental health of asylum-seekers detained on Nauru, after three men harmed themselves in the facility in as many days.
An Iranian man attempted self-harm on Thursday, while another two Iranians did the same on Saturday, an Immigration Department spokesman told AAP.
No other detail was released for privacy reasons.
"Medical and mental health support is obviously available to all clients on that facility," the spokesman said yesterday.
Under the new offshore processing regime, 254 people have been transferred to Nauru, while Manus Island is expected to start receiving transfers in the coming weeks.
Refugee Action Coalition spokesman Ian Rintoul said Nauru lacked adequate resources to deal with mental health issues.
As first appeared in The Australian, 15 October 2012
Share
About Author
(0) Readers Comments