Uncategorized

— 21 February 2017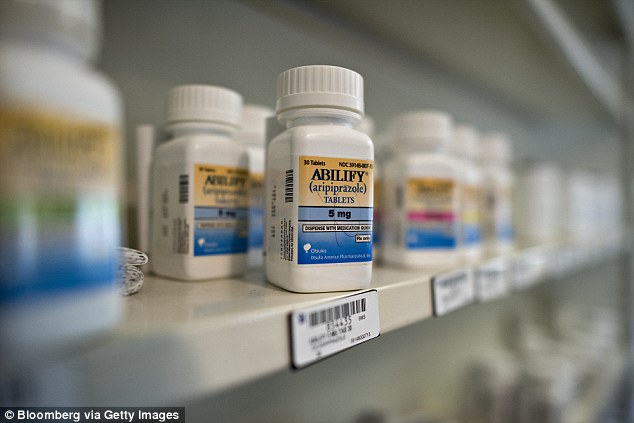 It's one of the most profitable drugs in America that is supposed to treat depression.
But hundreds of users claim it has driven them to binge on gambling, sex, food and shopping.
Abilify, the antipsychotic drug, has been accused in hundreds of lawsuits for causing compulsive behavior, especially gambling.
And now patients are demanding answers from the makers and the Food and Drug Administration (FDA), accusing them of hiding the 'life-ruining' side effects.
A woman, who spoke to FOX31 on the condition of anonymity, was prescribed Abilify for depression in 2008. She said things took a downward spiral soon afterwards.
'Eventually, I was asked to leave my parents' house because I couldn't stop gambling,' she said.
The mother-of-two ended up losing custody of her kids and possession of her house to her gambling habit.
Living in Las Vegas at the time, the woman said she never was tempted to gamble until she started taking the drug.
One time she missed two flights while gambling at the city's airport – McCarran International.
'I had to reschedule the first flight I missed and then I went back to the machine waiting for the second flight and I ended up missing that as well,' she said.
She estimates her gambling habit cost her between $1 million and $2 million in less than five years.
Attorney Mike McDivitt is representing nearly 200 clients in cases against Bristol-Myers Squibb and Otsuka Pharmaceuticals, the makers of Abilify.
He believes the drug acts on the brain's dopamine receptors, which crave pleasure. Gambling, shopping, overeating and hyper-sexuality can fulfill these needs.
'Individuals have uncontrollable urges. If you don't put a warning label, the doctors are more inclined to prescribe it,' he told FOX31.
The former patient admitted she even engaged in prostitution, something she says she's not proud of it.
'I [also] gained about 70 pounds and then lost it subsequently after stopping Abilify,' she said.
In 2002, the FDA approved Abilify for treating schizophrenia. Over time, approval was expanded to also treat bipolar disorder, major depressive disorder irritability associated with autism, and Tourette's disorder.
The former patient said she only got better after moving to Colorado in 2012. Her new doctor refused to prescribe Abilify.
In May 2016, the FDA issued a safety announcement, 'warning that compulsive or uncontrollable urges to gamble, binge eat, shop, and have sex have been reported with the use of the antipsychotic drug aripiprazole (Abilify, Abilify Maintena, Aristada, and generics).
'These uncontrollable urges were reported to have stopped when the medicine was discontinued or the dose was reduced.'
'If it ruins your life. That's a pretty bad side effect,' Gary Wilson, a Minneapolis-based attorney who has Abilify clients nationwide, told FOX31.
He also added that Europe issued compulsive behavior warnings about Abilify as early as 2012.
'That is the tragedy here. The American patients did not learn about the connection between gambling and compulsivity until almost four years after the European patients did,' Wilson said.
The former patient says the makers of Abilify should have put out a warning years ago, long before she gambled her life away.
'It's not the money for me,' she said.
'It's the time that I lost with my children, it's the time that I lost with my parents, it's the time that I devalued myself and lost my soul.'
Other side effects have been reported including heartburn, diarrhea, vomiting, stomach pain, blurred vision and even stroke in the elderly.
The FDA said in 2015 that 1.6 million Americans used Abilify or a related aripiprazole drug. It secures 8.7 million prescriptions a year.
Bristol-Myers Squibb in the US and Otsuka Pharmaceuticals in Japan said they have no comment on the reported side effects of the drug.
This peiece was seen on 'Daily Mail Australia' 18 February 2017.
Share
About Author
(0) Readers Comments