A landmark Alliance between business, the mental health sector and government begins today, to help create Australian workplaces that are 'mentally healthy'.
Mental illness costs the Australian economy over $20 billion a year and recent research by SANE Australia highlighted that the majority of people feel unsupported when mentally unwell, and less than half of managers (43%) have an understanding of mental illness.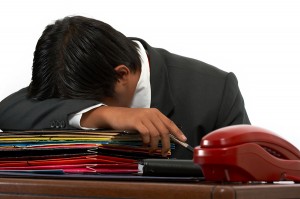 The Mentally Healthy Workplace Alliance is a collaborative partnership aimed at changing business culture and practices by providing the business sector with practical guidance about mental health. The Alliance is also developing an evidence-based business case for promoting mentally healthy workplaces.
Prof. Allan Fels, Chair of the National Mental Health Commission, which has set up the Alliance, is calling on all Australian workplaces to take steps to create mentally healthy workplaces, and fully realise the benefits to individuals, businesses and the community.
'With almost half of Australians likely to experience a mental illness in their lifetime, the importance of having mentally healthy workplaces cannot be overstated.
'Businesses that invest in mental health are also more productive, innovative and likely to recruit and retain the best and brightest people,' Prof. Fels explains.
SANE Australia congratulates the National Mental Health Commission for its leadership role inbringing the Alliance together.
'Here we have the business community working hand in hand with the mental health sector and that's essential if we are going to shift the dial on mental health in the workplace,' explains SANE Australia's CEO, Jack Heath.
'Australians with mental illness have one of the lowest workforce participation rates in the OECD and the Alliance has a critical role to play in turning this around,' says Heath.
SANE Australia has developed a training solution that provides managers with the skills and confidence to respond effectively to signs of mental health problems at work.
 Mindful Employer helps managers to create a more positive and supportive workplace, and avoid the costs of not responding to mental health problems in a timely and appropriate manner.
The program, which offers both online and face-to-face support, focuses on mental illness awareness training and the skills to work with, and support, an employee who has an existing or emerging mental health issue or is caring for someone who does.
'Business leaders care about the people they employ but if their managers don't know how to respond to mental health issues, the end result can be costly for everyone in both human and dollar terms. Mindful Employer helps reduce costs, improve productivity and create a positive working environment – all critical to long term business success,' explains Mr Heath.
Founding members of the Alliance include the Australian Chamber of Commerce and Industry, the Australian Psychological Society, beyondblue, the Black Dog Institute, the Business Council of Australia, Comcare, the Council of Small Business Organisations of Australia, the Mental Health Council of Australia, Safe Work Australia, SANE Australia and the University of New South Wales.
As per SANE Media Release, 1st July 2013
For further information on the Mentally Healthy Workplace Alliance visit workplacementalhealth.com.au
For further information about Mindful Employer visit: mindfulemployer.org
Share
About Author
(0) Readers Comments