Some teenage ADHD patients are passing their medications on to illicit drug users, researchers have warned prescribers.
The findings of a study of 26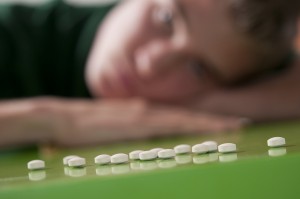 9 Sydney adults who used psychostimulant drugs more than once a week found that a third had used diverted pharmaceutical stimulants in the past.
Dexamphetamine and methylphenidate (Ritalin) were the two most commonly used drugs, with 83% saying that they had used the medication recreationally, and 18% saying they used them to help
with inattention or hyperactivity.
In 71% of cases friends of the users provided the diverted medications, followed by acquaintances (20%), relatives (18%) and street dealers (16%).
A total of 7% of the group had been prescribed pharmaceutical stimulants when they were younger – typically between the ages of 14 and 17.
Of these, 63% said they had misused their own medication during this time and 47% said they had diverted their medication to others.
Study author Dr Sharlene Kaye said medications were being diverted not only among adolescent or student peer groups, but also to a wider network of adult illicit drug users.
"Prescribers of pharmaceutical stimulants should be aware that these medications are reaching beyond the intended recipients and into the adult illicit drug market," Dr Kaye, a research
fellow at the National Drug and Alcohol Research Centre, told the organisation's annual symposium in Sydney on Tuesday.
The average age of the users was 35 years, with 88% admitting they had a psychostimulant dependence.
Those in the study group who had used diverted stimulants had started using cocaine and methamphetamine on average two years earlier than those who had never used diverted stimulants.
As first appeared in Psychiatry Update, 30 August 2012
Share
About Author
(0) Readers Comments