Up to 70 per cent of people will experience  a serious trauma during their lives. A  smaller figure, about 10 per cent, will fail to shake the horrific memory and go on to  suffer post-traumatic stress disorder, as  Court reporter PATRICK BILLINGS writes. 
IMAGINE a gun pointed at  your head, being involved  in a severe collision,  surviving a flood or  bushfire.
Up to 70 per cent of  people will experience a  serious trauma during  their lives.
A smaller figure, about  10 per cent, will fail to  shake the horrific memory  and go on to suffer post- traumatic stress disorder.
The response to a traumatic  event is fairly standard.
Most people will experience  shock, anxiety, disturbed  sleep and repeat  memories of the experience.
In the case of an armed  robbery "they may get an  image of the assailant and  an image of the gun might  come up".
University of Tasmania  professor Kim Felmingham  said "these reactions are  normal and to be expected".
It was when those reactions  didn't go away that it  could become a problem  requiring intervention.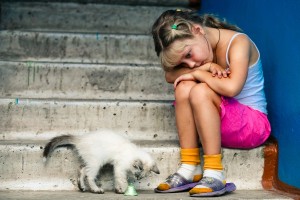 Professor Felmingham is  a clinical psychologist who  has been researching PTSD  for more than a decade.
According to Professor  Felmingham the brain decodes  events during a traumatic  episode that are tied  to strong reactions, or  "emotional arousal".
"Your body at that time  is flooded with stress hormones  – cortisol,  noradrenaline – you're  fighting or fleeing," she  said.
"Now in that environment  that memory at that  time becomes associated  with intense arousal."
When a PTSD sufferer  encountered a similar situation,  such as returning to  work after a hold-up, it  could trigger the same response  experienced during  the initial trauma.
There was no hard or fast  rules about who was more  likely to suffer PTSD.
Pre-existing mental  health issues could increase  the risk while the  perception of an event was  more influential than the  "objective severity" of it.
Professor Felmingham  has seen a gang member  shrug off knife-fight injuries  but the little old lady  who gets her bag snatched  might go on to suffer severe  PTSD.
"Incidents that involve  interpersonal violence are  associated with more risk  of developing PTSD than  say a car accident or a  natural disaster," she said.
PTSD could also develop  in people who tried to  avoid all things that reminded  them of the  trauma.
While that was an  understandable response, if  it was prolonged "you  never ever get to learn [the  trauma's] not going to happen  again".
The brain also worked  selectively, with sufferers  only remembering the  worst part of a traumatic  incident.
For example, the victim  in an armed robbery might  only remember the gun  against their head and  thinking "I'm going to die",  not the gun being lowered  and the bandit walking  away.
"Instead of remembering  a coherent narrative that  ends somewhere nice the  memory of a trauma … is  much more fragmented and  you tend to remember the  worst bit of it," she said.
"So the treatments that  we offer actually work directly  with those memories  to help you process [them]  so you can create a coherent  narrative and that actually  reduces the fear and  anxiety."
This article first appeared on 'Esperance Express' on 27 May 2014.
Share
About Author
(0) Readers Comments