There is no doubt about it: mental health nursing is a formidable as well as rewarding career and one that requires a range of skills, training and experience to do it well. And for anybody considering a career as a mental health nurse there is no shortage of options.
Specialising in mental health starts with getting the necessary qualifications for entry to a nursing degree course. Entry requirements vary between universities but, in general, minimum A-level prerequisites or equivalents are necessary. Mental health nursing has changed significantly in recent years, so the training and clinical experience on offer has altered to reflect this.
The variety and seniority of roles and career development paths available within mental health nursing – in and outside the NHS – are extremely diverse. Whatever route someone chooses, though, a key aspect is ongoing learning and keeping knowledge and skills up to date in order to maintain professional registration.
Mental health nursing in numbers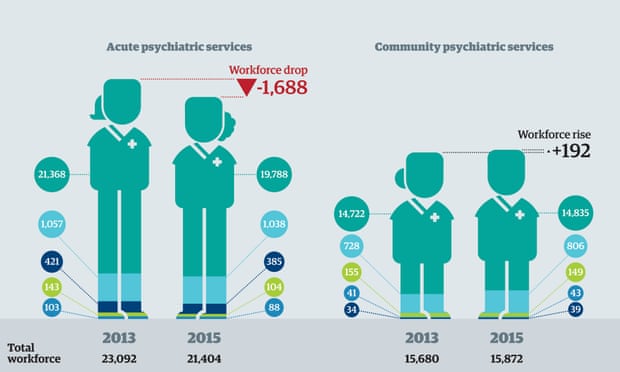 Claire Murdoch began her career as a registered mental health nurse more than 30 years ago because she "wanted to make a social contribution". Now chair of Cavendish Square Group, an umbrella organisation of 10 London NHS trusts responsible for mental health services, and chief executive of Central and North West London NHS foundation trust for the past eight years, she says that while the job of a mental health nurse can be demanding, for the right person "the opportunities are almost limitless".
People often associate mental health nursing with acute wards in hospitals and working with very seriously mentally ill people, but this is only one career option, albeit a vitally important part of the picture, she says, pointing out that at her own trust services span numerous areas, including supporting new mothers, children's services and eating disorders provision.
Murdoch says the potential of helping people right across society is a significant appeal of contemporary mental health nursing. "You might work with frail older people who are depressed and are starting to develop problems with dementia," she says. "You may also work in A&E departments."
The spectrum for mental health nursing also takes in community-based work, prisons, children's and young people's services and, of course, nurse consultants. Primary care settings and GP's surgeries are other areas where mental health nurses are increasingly situated, while management and research roles are on offer too. Outside the NHS there are multiple options in the private and voluntary sectors, including in residential and nursing homes and family therapy units.
Murdoch says that while there are clearly many challenges working in such a complex and important field the advantages are manifold, including working more as a partner in people's care. She says the biggest single challenge in the future is recruiting more mental health nurses: "You cannot provide high-quality care without qualified, dedicated staff."
This article first appeared on 'The Guardian' on 24 February 2016.
Share
About Author
(0) Readers Comments