Australian workers appear less stressed than their overseas counterparts according to a new survey, with nearly two-thirds of employees believing their work-related stress levels have fallen or stayed the same over the past year.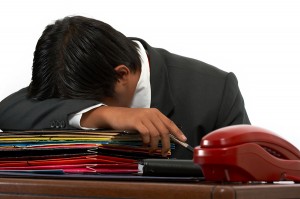 A survey of over 16,000 professionals worldwide found 48 per cent said their stress levels had risen in the past year.
In Australia the figure was only 38 per cent, while 43 per cent believed there had been no change and 20 per cent said their stress had fallen.
In comparison, stress rose for a majority of workers in China (75 per cent) and Germany (58 per cent).
Nearly half of the 431 Australian respondents said their stress was related to their job and personal finances.
Perceptions of work-related stress levels among Sydney, Melbourne, Brisbane and Perth employees were relatively similar, though workers in Brisbane were least likely to say their stress had increased in the past year.
Half the workers surveyed there believed their stress levels had stayed the same.
One quarter of Australian respondents said their colleagues were a reason for their stress.
Home life appeared less stressful, with 17 per cent saying their partner or spouse gave them stress and only 14 per cent nominating their children as a cause.
The survey was conducted by workplace supplier Regus.
As first appeared in The Australian, 12 September 2012
Share
About Author
(0) Readers Comments