VICTORIA'S mental health system used to be the envy of Australia. In the 1990s, the 19th century asylums were swept away and the base camp for a 21st century mental health system was built.
It was an optimistic time and early intervention, recovery, research and innovation were strongly supported by successive State governments. Victorians were promised modern mental health care in the community close to home, consistent with the way physical health care is provided.
What has happened since? Failure to launch and slow dieback. Undermanned and outnumbered, the advance parties of pioneers of community mental health have returned to base, this time the emergency departments and acute wards of our major hospitals.
The heavy burden of first response in mental health care has increasingly fallen quite unfairly on our police and ambulance personnel. They do an admirable job but have been left "holding the baby" due to the under-resourcing of our mental health system. Consequently mental health professionals have taken a big step backwards, exposing police, paramedics and patients alike to avoidable risks.
Emergency departments are swamped with severely and acutely ill people, a scenario which is bad for everyone. The last resort has become the first port of call.
The rise in demand due to population growth and increase in awareness driven by organisations such as beyondblue has heightened this paradox.
With the lack of a coherent State mental health plan and shrinking investment in real terms, the gap between need and access is growing every year.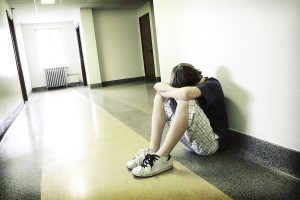 Victoria has slipped well down the national pecking order in quality mental health care. Many thousands of Victorians and their families already know that. I hear their stories every day. These are tales of frustration and despair.
Of unnecessary deaths, wasted lives and welfare dependency.
But the situation is redeemable and we have a range of solutions. We need a new beginning.
We must stem the tide and ring fence the community mental health budgets within Victoria's health networks so that funds go where they are intended. We must substantially increase investment in well-resourced, around the clock assertive community mental health teams to take the load off police and ambulance and prevent the bulk of emergency department presentations.
We must expand specialised community mental health care to work closely with GPs and NGOs.
We must scale up specialised child and youth mental health to provide back-up to the growing headspace system funded by the Commonwealth at primary care and community level. Headspace is providing much greater access for those young people whose needs can be met in a primary care setting, but there is currently very limited expert care from State mental health services for those with more complex needs.
Fixing that will save many young lives and much public money. It will safeguard the futures of young Victorians and provide relief to parents across the state who are frantic with worry about the predicament of their teenage and young adult sons and daughters. Inpatient units must be much better resourced so they can provide a therapeutic environment, not merely containment.
Everyone knows psychiatric treatments, while effective, are not perfect and just as with other major health challenges such as cancer, we urgently need better and safer ones. Research is the key and much stronger support for mental health research across Victoria is a top priority.
We need to build the leadership and facilities to get results.
THE Herald Sun recently featured the dilapidated state of the facilities at Orygen, Australia's biggest mental health research institute, where I work, which provides expert clinical care for thousands of young people each year and is an international magnet for researchers. These century old, decaying buildings contrast starkly with the shining array of other medical research institutes in the Parkville's University precinct, which are all housed in state of the art facilities.
A new facility for Orygen is shovel ready and merely awaiting a funding commitment. Mental health research and treatment needs a level playing field with other major health issues.
Ultimately for the public this is a matter of self interest. Every Victorian will be affected by mental ill health directly or through a close relative at some point in their lives. Humane and effective care is possible for all and breakthroughs and cures are within reach through research.
Now is the time for people to ask the question of Denis Napthine and Daniel Andrews.
What is the next Victorian government planning to do to tackle the decade of decline in mental health and lift it into the 21st century? Demand genuine reform and don't be distracted by confetti and Band-Aids.
PROFESSOR PATRICK MCGORRY IS EXECUTIVE DIRECTOR OF ORYGEN, THE NATIONAL CENTRE OF EXCELLENCE IN YOUTH MENTAL HEALTH AND A FORMER AUSTRALIAN OF THE YEAR.
This article first appeared on 'Herald Sun' on 4 November 2014.
Share
About Author
(0) Readers Comments