IT IS a stark warning for pushy parents: micromanaging children's lives to shoehorn them into elite universities can lead to failure, dependence and even breakdown.
A leading education expert says that aggressive parenting makes children "anxious, dependent, narcissistic and careerist".
"The children are terrified of failure," says David McCullough, a teacher of 30 years and author of a new book on the subject.
"From birth they are strapped into the car seat and protected, driven and aimed in one direction."
McCullough says that parents who cram their youngsters' days with tutors, music lessons and sports practice, and even do their homework, are not helping their offspring to have fulfilling careers or prosperous futures.
Instead "snowplough parenting" — clearing the way for children to follow — turns them into "achievement machines".
"They are compliant; they have given up self-determination and a willingness to explore their own interests," he says.
McCullough says snowplough parents are driven by an obsession with qualifying their children for a top job in a world where competition for careers is global and ferocious.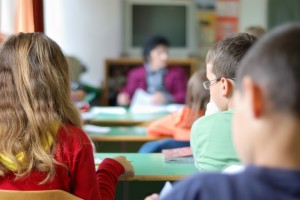 He bemoans an "arms race" to try to ensure children collect sufficient academic, sporting and artistic accolades for entry to one of the world's top universities such as Oxford or Cambridge, or Yale or Harvard in America.
"If you do not get into one of the top 30 to 50 colleges, you are in for a very hard time in life that's the thinking driving all this," he says, adding that it is an impossible goal for most youngsters, because many more are going to university than ever before and the competition for the leading universities is fierce.
In Britain, nearly a quarter of teenagers use tutors to help boost their grades, according to research by Ipsos Mori. In two generations the proportion of 18-year-olds going to university in Britain has risen from 8 per cent to 50 per cent, and today they are competing for places with students from other countries including China and Russia. Five students with straight As compete for every undergraduate place at Oxford and Cambridge.
The pressure is taking a heavy toll. One in 10 British university students suffers from mental health problems.
"Kids are not being allowed to come up with their own definition of success," says
McCullough, who insists his generation was "given much more freedom to choose our own path and live with the consequences".
His views seem to have struck a chord. A video of a school graduation speech he gave outlining his concerns attracted 2.5 million hits on You Tube within days. He has published a book called You Are Not Special, a reference to the thousands of teenagers he has seen who have been encouraged to think they are "special" by "micromanaging parents".
In it, he writes that a "new cult of exceptionalism" means that to be average — for most an unavoidable statistical fact — "is to be thought inferior".
McCullough describes one student sent on a 200km bus journey each Saturday for a piano lesson, and another who, w hen he pointed out spelling mistakes, replied: "Mum must have missed those." Another mother said to him: "Hey, have you heard? We got into college."
McCullough says many undergraduates can't manage alone because they are so used to being helped by their parents. "They besiege professors for extra lessons or expect a private tutor like they had when they were 17," he says. "In some cases they just drop out, seeing failure as a failure of the support system around them and not as their failure."
His arguments are supported by a former English don at Yale. William Deresiewicz's book Excellent Sheep, a reference to Ivy League students he has encountered, paints a picture of children groomed since birth to leap every hurdle.
Students he interviewed for the book were sad and uncertain. "I might be miserable, but were I not miserable, I wouldn't be at Yale," said one. Another said: "I've seen my peers sacrifice health, relationships, exploration, activities that can't be quantified and are essential for developing souls and hearts, for grades and CV building."
McCullough said he was seeing a growing backlash against snowplough parenting in the US, though less so in Britain, where his oldest son has done a stint at the LSE.
He advises parents "to try as much as possible to give children free rein and let them follow their passions and curiosities without overweening interference every step of the way … Sometimes our kids take paths they shouldn't, sometimes they will make mistakes. That's OK."
This article first appeared on 'The Australian' on 24 August 2014.
Share
About Author
(0) Readers Comments