YOUNG people are struggling to cope with stress, many concerned their dreams are out of reach, ­according to the country's biggest annual youth survey.
The Mission Australia 2014 Youth Survey, of almost 14,000 people aged between 15 and 19, ­reveals a troubling gap between what young people aspire to and what they actually believe they can achieve.
The vast majority surveyed ranked career success and financial independence as their top two aspirations, yet only about 60 per cent felt those goals were actually attainable.
At the same time, the issue of greatest personal concern was coping with stress, more than one in three expressing high levels of concern, highlighting the pressure young Australians face in their final years of school.
The environment, consistently dropped down the list since it peaked at No 1 in 2011, is now ranked at No 10.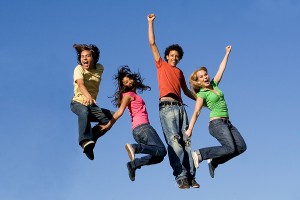 Mission Australia chief executive Catherine Yeomans said the results should act as a "wake-up call" to government and the community that urgent investment is required to ensure young Australians are better supported through the transition into adulthood so they have the opportunity to lead healthy and productive lives, and to underpin Australia's future prosperity.
"Australia's young people have been raised to dream big, but this year's results highlight their serious concerns about whether those dreams are achievable," Ms Yeomans said.
The economy and financial ­issues continue to weigh heavily. The survey also found young ­people place more importance on career and financial aspirations than community connections and having a family.
About 80 per cent ranked education and hard work as the top two factors they believe will influence their career opportunities in the future. Almost 50 per cent ­believe where they live will affect their career opportunities.
More than one in three are currently looking for work (including part-time/casual).
More than 70 per cent ranked owning a home as a key aspiration, and most felt this was achievable despite falling rates of home ownership in Australia.
The survey found only 54 per cent of males planned to go to university, compared with more than 70 per cent of females.
One in five indicated strong concerns about family conflict and depression while concern about mental health, ­alcohol and drugs has continued to rise for the past two years.
In addition to asking about their personal and national concerns, the 13th national Youth Survey asked what young people valued, who they turned to for help, what activities they engaged in and how they felt about the ­future. It included a particular focus on aspirations.
Ms Yeomans said: "There ­appears to be a ­pressure-cooker ­environment where young people are not only stressed about coping with school and study pressures and increasingly dealing with work pressures at a younger age; they are also facing the prospect of not meeting aspirations for their career, housing and financial security that previous generations may have been able to achieve.
This article first appeared on 'The Australian' on 1 December 2014.
Share
About Author
(0) Readers Comments