There are many things to fret about when you are a new parent: lack of sleep, the baby's development, lost income and unsolicited parenting advice.
But new research has found that for a higher than expected number of first-time mums and dads, the anxiety experienced while adjusting to parenthood can be overwhelming and interfere with daily life.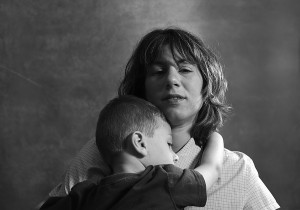 New research published in the Journal of Affective Disorders has found a third of Australian women and 17 per cent of men experience anxiety symptoms, making the condition more common than depression in new parents.
Dr Karen Wynter, from the Jean Hailes Research Unit at Monash University, said the levels of anxiety and adjustment issues were higher than expected.
"We actually found 9 per cent of women and 4 per cent of men had clinically diagnosable anxiety disorders in the first six months of the birth of the baby," she said.
"The research shows that we also need to pay more attention to new fathers, because some of them will have problems adjusting to a new baby in the house.
"I think it is really important they are included in at least one post partum visit to the child health nurse or the GP who can actually ask them if they are OK."
Dr Wynter said her research found warm, caring, relationships between couples was protective against depression and anxiety symptoms.
Amy and Gerardo Iacullo have avoided anxiety problems while mastering their new roles parenting baby Romeo, thanks to their loving supportive partnership and help from Amy's mother.
Mrs Iacullo said her husband would happily come to baby health appointments but couldn't because of work.
"All the antenatal classes and books you read, I am pretty sure you just leave them at the door when you get home with the baby," she said.
She said "social pressures telling us what is the right amount of sleep, right way to breastfeed and parent" along with fears about SIDS could make new parents anxious.
This story first appeared in The Daily Telegraph on 2 November, 2013.
Share
About Author
(0) Readers Comments