YOUNG men in the bush are almost twice as likely to take their lives as those living in cities in a devastating toll that underlines the crisis in mental health care in the country. Even though 30 per cent of the population live outside metropolitan areas nearly 90 per cent of the nation's psychiatrists are located in cities.
In some remote towns the Royal Flying Doctor Service is the only mental health service available and they are often fully booked.
And experts say the absence of mental health services means it is common for police to be called in to deal with acute episodes and transport a patient to a mental health unit which exacerbates the crisis.
In 2010, 5.9 per 100,000 15-19 year-olds in capital cities died by suicide compared to 10.3 per 100,000 outside capitals. The same year, the suicide rate was 9.0 per 100,000 for 20-24 year-olds in capital cities compared to 16.5 for their peers outside capitals.
When Greens Senator Penny Wright undertook a mental health tour of the bush last year she found staff burnout is a concern in remote areas where demand for mental health services is high and support for employees is often unavailable.
Poor resources mean there is no continuity of care.
"They swap your worker every couple of weeks — nothing worse than when you pour your heart out to someone and then you have to do it again." another patient reported.
Even though most experts see telehealth consultations with city based psychiatrists and psychologists as the answer to poor resourcing of mental health in the bush it's not so simple.
The Department of Health's annual report shows only 25 per cent of the telehealth budget was spent last year and just 12 per cent of specialists take part.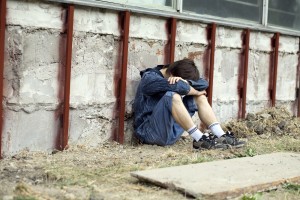 Penny Wright says many of the people she spoke to said access to fast internet connections and a reliable computer is essential to the effective use of online services and in some cases poor equipment made it unattractive and frustrating.
Dr John Denham the Royal Flying Doctor Service Medical officer in Broken Hill says his service has a four person mental health team that visits towns in the surrounding area once a month.
Recently the service had to pick up a patient suffering acute psychosis and transport them to Orange.
"We had a another guy threatening suicide over the phone and we had to get him to hospital," he said.
There has been two years of drought in the region and a lot of station owners are feeling the strain, he says
"One guy, all the neighbouring farmers had had rain and he didn't and that was the final straw," he said.
The service tries to identify people at risk of mental problems early but the mental health worker in the region is fully booked.
The tyranny of distance and travelling time means a three hour flight to a remote town leaves only five hours available for appointments instead of nine to five services available in cities.
Beyondblue chief Georgie Harman says "we know the impact of depression and anxiety are more prevalent in the bush".
Help seeking is not strong in rural areas where the stereotype of country people is they are stoic, conservative, and proud, she says.
The at risk groups for mental health problems — men, farmers, young people and indigenous Australians are overrepresented in the bush.
And people with problems are less likely to seek help because "in a small country town the GP could be a mate of your dad or people will whisper about seeing you going into a services," she says,
Beyondblue currently has a community bus touring regional areas to raise awareness of mental health issues.
SANE Australia this week launched two new online forums one for people living with mental illness, the other for carers of those with a mental illness.
Jack Heath of SANE says there is good evidence that peer support provided by such forums helps break down the isolation people with a mental illness feel.
Dr Keith Miller of Flinders University says the most successful program he's witnessed was run in South Australia during the 2008 drought.
The state government funded rural planners who lived in a region and went out to farms to meet farmers and delivered counselling.
'The significant part was they went to the farmers on their farms rather than expecting them to come to town," he said.
Experts say rural communities need help to "grow their own" mental health workers, more mental health nurses are needed and more effort needs to be put into telehealth.
A spokesman for Health Minister Peter Dutton said the Australian Government funds 375 FTE mental health nurses that work with psychiatrists and general practitioners across approximately 370 organisations.
It also provides mental health services in 200 rural and remote communities through a $16.7 million Mental Health Services in Rural and Remote Areas program.
Under its National Suicide Prevention Programme the Government is providing $9.2 million in 2014-15 for 23 national and local community-based suicide prevention projects that primarily target rural and remote areas.
The National Mental Health Commission is currently undertaking a review of mental health and suicide prevention programs across Australia.
As part of this process the Commission will assess whether there are any gaps in mental health and suicide prevention and post intervention services, research, workforce development and training, along with considering the particular challenges of providing services in rural, regional and remote Australia.
If you need help or someone to talk to call Lifeline on 131114, Mensline Australia on 130078 99 78 Beyondblue 1300 22 4636.
This article first appeared on The Mercury on 31 August 2014.
Share
About Author
(0) Readers Comments