The suicide rate  in Australia is close to the worst it has been in a decade, highest among older men who are killing themselves because of loneliness and health problems, according to  the Australian Bureau of Statistics.
The 2012 figures  ranked suicide as the 14th biggest killer, up one rank from 2011, and behind heart disease, dementia and diabetes.
The national suicide rate climbed to 11.2 people per 100,000, up from 10.7 in 2011 and nudging the 11.3 high in 2010, a figure that could be passed once the preliminary data is assessed over the next two years.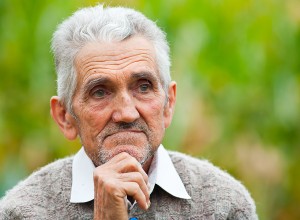 While males aged 15 to 19 represented the largest proportion of suicide deaths at 21.9 per cent,  it was also the lowest rate. The highest rate was for men aged 85 and above at 37.6 suicides per 100,000, more than triple the national rate.
"It is political but there is no ducking it … these men are committing suicide because they are terminally ill or have significant health problems," Beyondblue's chief executive Kate Carnell said.
"It would be wrong to suggest there is not a big percentage of this group of people who have made the call; their quality of life has dropped, they're in significant pain."
Health problems are not the only reason older men commit suicide. Australian Men's Shed Association chief executive David Helmers said retired men  were often robbed of their place in the world, forged in the workplace.
"You see it in the army, this culture that has been built for men and then suddenly when they're outside it, they don't  know how to cope as well," he said.
Sydney retiree Chris Gotham, 72, of Mosman, has  had five "major depression episodes" and said the stigma attached to mental illness had to be worn down.
"If I was still in the workforce, I wouldn't be talking about it," he said."Men are very stubborn and often won't seek help."
For every woman who commits suicide, three men die, according to the statistics. There were 2535 deaths from "intentional self-harm" in 2012.
This article first appeared on The Australian on 26 March, 2014.
Share
About Author
(0) Readers Comments