An addict-proof version a widely abused prescription pain killer is expected to save taxpayers millions of dollars and see pharmacies raided by drug addicts when it is introduced on Tuesday.
Chemists have been warned their shops could be robbed by drug addicts desperate to get the last supplies of the old OxyContin tablets — also known as hillbilly heroin — so they can crush it for injection or sniffing.
It has been estimated almost half the drug users in injecting rooms use OxyContin which has emerged as one of the most abused prescription medicines.
The new tablets turn into a marshmallow-like blob when hit with a hammer and become a gel too thick to be injected when mixed with water.
Drug addicts frequently hold up pharmacies to obtain the medicine and last year a number of people threatened to detonate bombs if chemists refused to give them the drug.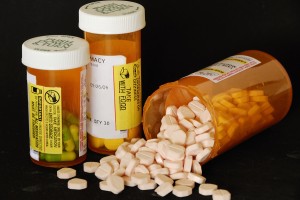 Prescriptions soared by over 152 per cent from 35.3 to 89.2 per 1000 population between 2002—03 and 2007—08.
More than a million scripts of the opiate pain killer are filled each year and it has been costing taxpayers $57 million.
The prescription drug trades for up to $50 per tablet on the illegal market which means a packet can be worth more than $1000.
Drug addicts crush the tablet to inject or snort.
A Medical Journal of Australia study found between 2001 and 2009 there were more than 465 deaths from oxycodone use, outstripping deaths from heroin.
From April 1, pharmaceutical company Mundipharma will introduce its new non-crushable OxyContin tablets and withdraw the original version of the medicine from pharmacy shelves.
The Pharmacy Guild of Australia has warned its members to be on the look out for people with fraudulent scripts trying to obtain the last supplies of the old, crushable version of the drug in the next few weeks.
"It is expected in the transition period around the introduction of the reformulation, there will be an increase in the number of forged prescriptions for oxycodone prescriptions being presented to pharmacies. Pharmacists must ensure that all oxycodone prescriptions are safe and appropriate," the newsletter said.
The savings to taxpayers could, however, be short-lived because the patent on OxyContin expires in the middle of this year and generic versions of the drug that are crushable will be allowed to be sold.
Last year the United States Food and Drug Administration intervened to prevent the sale of crushable forms of the drug there after 48 attorneys general signed a letter calling on it to help stamp out the diversion of the drug to the illegal market.
Mundipharma Managing Director Jane Orr said she wanted the Australian government to consider "new standards to recognise the utilisation of abuse-resistant technologies."
In 2012 the government's National Pharmaceutical Drug Misuse Framework for Action called for tamper resistant technology to be promoted for medicines diverted to the illegal drug market.
Banning non crushable forms of OxyContin would give Mundipharma a significant market advantage and could delay any savings taxpayers might make from the introduction of cheaper generic versions of the drug.
This would need to be weighed against gains made in stamping out part of the illegal drug trade and reduction in health costs related to deaths and overdoses caused by the medicine.
This article first appeared on 'news.com.au' on 30 March 2014.
Share
About Author
(0) Readers Comments