A fantasy video game set among volcanoes and swamps has been found to be just as effective for treating depressed teenagers as face-to-face counselling with trained professionals.
A study published Friday in the BMJ showed the 3D game – an elaborate form of cognitive behavioural therapy – delivered similar reductions on a depression scale to regular care from counsellors, psychologists and GPs.
187 New Zealand adolescents with depression took part in the randomised controlled trial, which ran for four to seven weeks.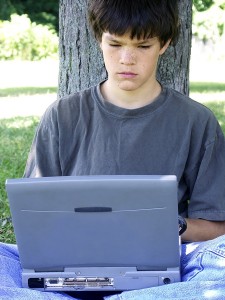 The game, known as SPARX (Smart, Positive, Active, Realistic, X-factor thoughts) allows users to choose an avatar and face up to challenges in a fantasy world dominated by GNATs (Gloomy
Negative Automatic Thoughts).
Navigating seven fantasy realms, including ice provinces and canyons, gamers are taught to develop skills for overcoming problems and dealing with emotions.
Virtual guides put the game into context, provide education, and set and monitor real-life challenges, equivalent to homework.
Follow-up at three months found depression scores were slightly lower in the game group than the usual care group, but this difference was not statistically significant.
Remission rates were significantly higher in the game group; however the researchers said the game was nonetheless a promising treatment that could reach those young people who currently do not access help.
"Up to a quarter of young people will have experienced a depressive disorder by the age of 19. However, fewer than a fifth of young people with depressive disorder receive treatment … partly because young people may be reluctant to seek traditional help," wrote Associate Professor Sally Merry, of the University of Auckland, and colleagues.
The researchers designed the game as a self-help tool which would have wide appeal to young people. Most study participants said they would recommend it to their friends.
Depression was measured primarily using the children's depression rating scale-revised – a scale with "sound" psychometric properties that was widely used in clinical research, the researchers said.
After treatment, there was a mean reduction of 10.32 in those treated with the game, compared to a mean reduction of 7.59 in those who received traditional therapy.
Treatment was delivered over four to seven weeks. Adolescents in the gaming group received one brief phone call from a health professional after a month, but otherwise had no contact after recruitment.
Those in the usual care group received counselling from school-based services or GPs.
SPARX was delivered on CD-ROM, and was designed to run on PCs with reasonably low specifications. Young people who don't improve are advised to seek help from their referring clinician.
The trial was funded by the New Zealand Ministry of Health.
BMJ, online 2012
As first appeared in Psychiatry Update, 26 April 2012
Share
About Author
(0) Readers Comments