A Riverina mother says she's appalled her mentally ill son was turned away from Wagga's Emergency Department after attempting suicide.
Wagga Base Hospital's new 50 bed mental health unit which was officially opened yesterday can accommodate one juvenile and a parent for a short term, but is not adolescent specific.
Jodie Hincksman says her 13 year old boy has tried to kill himself many times and suffers from violent rages.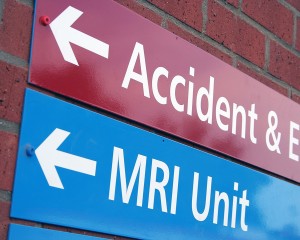 She says despite trying every avenue for help she keeps getting turned away and she's terrified something will happen to her son.
"He hung himself from a tree and after going to the hospital in an ambulance, it took two security guards and two hours of waiting with him in a psychotic rage before the psychiatrist came in," she said.
"She like did an assessment on him and then went ahead and said there's nothing we can do you're going to have to take him home."
"We were then told that we had to leave, there wasn't even the option of a bed – there's nothing we can do for him, there's nowhere for him in Wagga."
Ms Hincksman is pleading with local politicians to improve mental health care for youth, saying she fears for her son's life.
Yesterday the mother of three reached out to local members Daryl Maguire and Michael McCormack for better public psychiatric treatment.
She says her 13 year old son is suffering serious mental illness and fears delaying his treatment will make things worse.
"I'm waiting for him to turn 15 because it opens the door to more services available and then again when he turns 16," she said.
"But how are you meant to go home and cope with the fact that if you go to sleep and your son then sneaks out and tries to kill himself again which he said he was going to."
"How do I deal with that and who is responsible when the systems turned me away."
"If his mental health causes problems in society police will grab him off the street he'll get charged and then he's got sort of no future ahead of him."
She says the engineer of the new facility agrees wit her that children could be treated in the centre away from the adult patients as the wings are so separate.
Ms Hincksman says she's been advised the closest available treatment is in Sydney or there are two beds in Orange.
The mother of three says she's tried every avenue locally but is continually referred back to community and mental health.
"I've approached DOCS personally myself, I've had 13 other agencies that have worked with my son approach DOCS and report to DOCS to try and get DOCS to help and DOCS have never once ever come and helped me as a parent or helped my son," she said.
"The community and mental health psychiatrist flies in from Sydney, spends 15 minutes with your child doesn't make a diagnosis because they really can't in 15 minutes."
Comment has been sought from the local health district.
The Health Minister Jillian Skinner opened the new mental health unit yesterday and says the goal is to recruit local psychiatrists and doctors to run the facility.
For more than a decade the Hospital has relied on fly-in, fly-out visiting doctors from Sydney and a district Director of Mental Health Psychiatry has not yet been found.
Ms Skinner says currently the new unit has one Wagga based psychiatrist, who'll be joined by four more in the coming months, along with six visiting medical officers.
"Yes they have, local, doctors who will be employed and live here at the hospital and they will actually assist people who are VMO's Visiting medical officers under contract," she said.
"But they have staff doctors who will be located here as well as registered nurses, enrolled nurses and a very big allied health team as well."
There's hope police and ambulance in the Riverina will no longer be burdened with the task of transporting mentally ill patients to hospital.
The Minister says the state of the art facility will reduce patients travel between hospitals, using tele-health to provide doctors and nurses with expert assistance and link health services.
But the minister admits in some rural areas police and ambulance can be the only option.
"So if a hospital patient in Hay is considered to be marginal about whether they transport that patient or whether it's a nurse overnight, they can actually call in here 24/7," she said.
"They can get that support they need, like help with diagnosis and whether transport is necessary."
"So it will actually help avoid unnecessary transport involving police ambulance and others into hospital"
This article first appeared on ABC Online on 22 October, 2013.
Related Articles
Share
About Author
(2) Readers Comments