Horticultural therapists reveal how outdoor projects help to support physical and mental health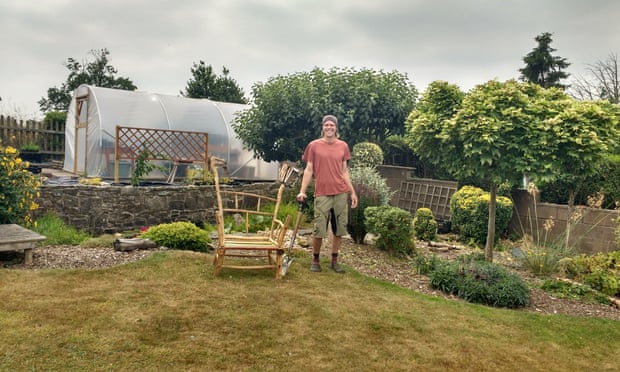 Horticultural therapist Thomas Erskine enjoys a "sense of connection" when he works outdoors. Being wholly absorbed in an activity – taking in the immediacy of the environment – enables him "to lose the frenetic noise of a speeding world".
Erskine runs gardening projects for people with learning disabilities and physical and mental health problems. He began his social care career in residential settings but found the environment frustrating and lacking meaningful activity. "I have always felt that social care is at its best when it's focused and activity-based," he says, "as these are often the times when people loosen up and start to have a more positive focus."

After setting up a cooking and gardening group in a home for young homeless people, he took on the running of a walled garden in Alfreton Park, Derbyshire, that had become part of a day centre for adults with learning disabilities. Over the next 10 years, he turned it into a thriving community garden, running the project as a small social enterprise, selling plants and produce, and creating welcoming and accessible spaces, including a large outdoor cooking area with a pizza oven and a sensory yurt made by the garden group.
Erskine now works in woodland therapy or, as he describes it, "wild horticultural therapy", which includes hands-on making, working with natural materials using hand tools. He's also in negotiations with his local council to develop an accessible forest therapeutic project in Amber Valley, Derbyshire.
Horticultural and woodland therapies are attracting attention thanks to the increasingly well-documented value of the outdoors for people's mental health and wellbeing. In fact, research has shown that the flexible nature of gardening projects allows service users to feel empowered in a non-threatening space. It also helps develop nurturing skills and is thought to boost mindfulness, as well as increasing serotonin and dopamine levels.
"The direct connection between physically doing something and the progress made, can be a good antidote for those who find being inside restrictive," says Erskine. He gives the example of a young woman who "had a very limited vocabulary, but when she worked with her hands she became one of the most expressive people in the group, bringing in pictures of garden woodcraft projects she wanted to do next". Another woman showing signs of early onset dementia became proficient with a draw knife (used to peel a hazel coppice), responding with a growing dexterity to a new skill she was learning later in life.
As one volunteer at community volunteering charity The Conservation Volunteers (TCV), puts it: "The garden slows you down and brings you into the moment: you can't hurry it along." She adds: "When you're suffering from depression, it's hard to think about the future. But gardening means you're planning for the future, and seeing the results." Advertisement
It's clear that therapeutic horticulture is a growing area. Erskine says: "Health services in particular are leading the way in seeing the outdoors as a green prescription that works in delivering outcomes, especially around mental health and in the area of the early stages of dementia." Indeed, projects are emerging all over the country. Chilypep (Children and Young People's Empowerment Project) and the Sheffield and Rotherham Wildlife Trust have just completed a Secret Sanctuaries project to encourage young people into the outdoors. Kent charity Blackthorn Trust offers medical care, specialist therapies and rehabilitation through work placements in its Blackthorn Garden.
It stands to reason that to work in therapeutic horticulture you need to have a love of the outdoors. You also need to be creative and resourceful, says Erskine, who adds that "coming up with and responding to new interests can help keep a project fresh and relevant."
Unlike the slightly more formal journey into occupational therapy and speech and language therapy, the route into horticultural therapy can differ according to area and need. Avon Wildlife Trust in Bristol runs a 12-week Grow Leader course aimed at anyone working in community projects and Reading-based charity Thrive works out of three regional centres in Berkshire, Battersea Park in London and Kings Heath Park, Birmingham, running outreach programmes at schools, hostels, hospitals, care homes and other community settings. For professionals and volunteers, Thrive offers courses such as Step Into Social and Therapeutic Horticulture and Connecting People With Dementia to Nature and Gardens.

Laura Hillier is a horticultural therapist at Thrive's Birmingham centre, working with people who have had a stroke. She first trained as a mental health nurse and worked in a variety of roles, including as an NHS staff nurse. She'd always loved gardening and started volunteering at Thrive, before getting a part-time job with the charity. She says: "As I got older I became more aware of how nature and being outdoors contributes to our mental and physical wellbeing."

She adds: "Horticultural therapy is much more than gardening – it offers people a chance to take part in something meaningful and build their skills and confidence." And being a horticultural therapist is much more than being a gardener: "Seeing the difference it makes, the increase in confidence and connections made is very rewarding."
This piece by Hazel Davis was first seen on 'The Guardian', 26 July 2018.
Share
About Author
(0) Readers Comments