Of all the players who listened ashen-faced to ex-NRL halfback Joe Williams' harrowing tale of depression, Johnathan Thurston appeared to be hit the hardest. Sure, Williams struck a nerve with new father Thurston when he noted that he had gone to the trouble of writing farewell letters to his young children before attempting suicide four years ago. But it was the Cowboys' recent tragic history that created the lump in Thurston's throat during Williams' powerful mental health address at the Indigenous All Stars leadership camp on the Gold Coast. However, Thurston says he has walked away more determined than ever to help the Cowboys ensure history does not repeat at the NRL club. Thurston left Williams' sobering lecture admitting there was more pressure on youngsters to perform these days than when he first emerged on the scene 11 years ago. Still, nothing could prepare Thurston or his Cowboys teammates for recent events.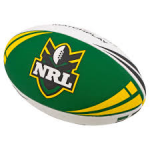 They are reeling from the deaths last month of North Queensland under 20s player Regan Grieve at the age of 18 and Hayden Butler at just 20. It came after 20-year-old Cowboys squad member Alex Elisala died suddenly in April, 2013. "It was pretty close to home," an emotional Thurston said of Williams' lecture ahead of Friday night's NRL All Stars clash on the Gold Coast. "The expectations and pressure are a lot higher than when I first came through. "This two day camp has got a lot of under 20s guys so it's about opening their eyes up on how to deal with those expectations and the career path they can take after footy." Asked how to avoid further tragedies, Thurston said: "It's about breaking down the barriers. It's about having the confidence to say 'mate, I know you better than that, you are not okay, let's talk', try to point someone in the right direction or seeking help yourself." Meanwhile, Williams admitted he wondered what might have been when he heard about the recent Cowboys tragedies. "It affected me in that maybe someone like me could have done something first," the professional boxer and ex-South Sydney playmaker said. "Suicide is a fairly permanent thing. And it (depression) is not something that will go away overnight or with one talk. It's about raising awareness, starting that conversation. It is not a shameful thing to talk about but there are a lot of kids who don't want their coaches or others to know they are struggling."
Seven years after his battle with depression brought a sudden halt to his 49-game NRL career, Williams said he could still empathise with the NRL's besieged youngsters. "A lot of the younger blokes in the game they put so much energy into making it in the NRL," he said. "So when they come out of the under 20s and there is nowhere to go it's a harsh reality and kids struggle with it.  "It's about encouraging these kids, telling them that they are not alone ..(and) that rugby league is not the be all and end all."
This article first appeared SBS, 9 February 2015.
Share
About Author
(0) Readers Comments